Ariel Bender
Office Assistant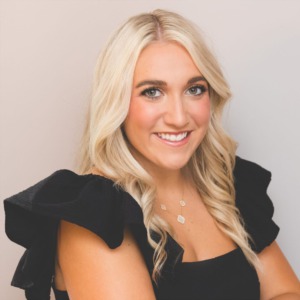 Ariel has been an independent, motivated, up-for-a-challenge individual all her life! In Elementary school, she signed up for the Talent Show before she had a 'skill'. In a short time, she learned how to hula hoop and put the act to music. In High School, she tried out for the volleyball team before really knowing much about the sport. She did the same with lacrosse. If there was something extra she could get involved in at school or church, you could count her in! She is still very much like this and looking to diving right into real estate. 
Ariel is a senior at Southeastern University and is excited to earn her bachelor's degree in 2024.
Ariel recently married her best friend, Garrett, on September 29, 2022. As newlyweds, they live together in Bel Air, MD. 
Ariel has an ability to captivate and inspire others with her self-confidence and enthusiasm.  She has a contagious energy level helping to lead people, individually or in a group setting.  With excellent verbal and communication skills, Ariel engages with people to move them to where they want to go.  She works hard and plays hard, even when things get difficult. When the going gets tough, she has the ability to maintain a positive spirit for the group. Ariel has the ability to make rapid decisions. Her ability to react, adjust, and modify her behavior in a variety of situations work well in a changing real estate market.  Compass Home Group is excited to have this self-starter with a competitive edge join us in how we grow forward. 
The word 'chosen' is a word that has meant something to Ariel for most of her life. With such deep meaning, she had this word tattooed on her arm and she has reminders hanging in my house. Ariel was adopted (chosen) at a very young age. God sent her two wonderful parents who she considers her two biggest influences. Her parents have truly helped her to get to where she is today. When Ariel starts to question her purpose in life, she must remind herself what God has done for her. She believes God chooses everyone for specific reasons and even when you cannot see, he has ordained your future. "But you are a chosen people, a royal priesthood, a holy nation, God's special possession, that you may declare the praises of him who called you out of darkness into his wonderful light" (1Peter 2:9).
Ariel is very excited to begin a career in real estate. With her love of being "busy" and needing variety, she knows real estate will keep her busy and give her plenty of variation. Ariel also loves photography and is very creative. These two interests convert to real estate. She is thankful to the Compass Home Group team and learn from their experiences as well as her own.
Ariel loves to have plans but also thrives on spontaneity! Most assume she is super social. She prefers smaller crowds and being around family. She very much relates to the saying "I'm here for a good time, not a long time"! While Ariel loves being busy, she also enjoys downtime...especially by Sunday evening to reset for the week. She loves to workout...actually she needs to workout consistently to maintain good mental health. Ariel loves to shop at local boutiques and hang out in coffee shops with friends and family. Golf is becoming a new hobby for Ariel and her family.  Ariel is obsessed with her English Bulldog, Polly (who they lovingly call Biscuit!).  Ariel really loves to travel. She has a long bucket list of places she would like to go. Paris is first up! Fingers crossed it will happen for her in 2024!
It is clear to see why Compass Home Group has chosen to mentor Ariel as she enters the real estate field. As a student of this industry, Compass Home Group is eager to teach her and to see what she can teach us. She brings a crisp newness to what we are doing as we work to continually outline how our boutique brokerage is different than so many others. As noted above, Ariel loves boutiques so Compass Home Group just makes sense.  Ariel fits our fun, love, and build community mantra as a natural and we are looking forward to growing right alongside her.